Sealed spherical roller bearings are defined by having sealing shields mounted on the external edge of the sides of the bearing. These protect against external contamination and keep the lubricant in place.
Both bearings are designed to withstand high loads; however, sealed bearings benefit from the enclosure that helps extend their service life. Understanding both bearing types and which is needed for a specific application is essential when sourcing suppliers.
At Bearing & Drive Systems, we're committed to providing global sourcing network solutions that help you find the authentic bearing that your customers need now.
So suppose you're looking for a type of spherical roller bearing for your next project.
What's your next best step?
You can get in touch with a sales rep about your bearing needs or submit a support ticket. We can help reduce any downtime for your customers and guarantee authenticity and quality.
In the meantime, keep reading for more information about spherical roller bearings (Sealed vs. Non-sealed), design attributes, and their many applications...
Spherical Roller Bearings (Sealed vs. Non-sealed/Open Bearing)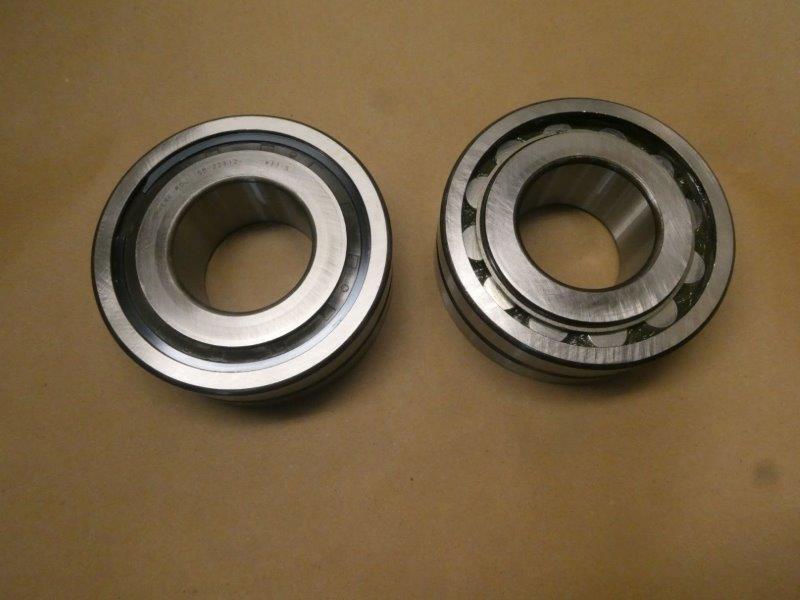 The main difference between the two bearings is the sealed spherical roller bearing has a highly effective double-lip seal that keeps lubricants in and contaminants out.
Both types are designed for high-load capacity, with the sealed versions offering an additional advantage. Because the seal keeps dirt and other contaminants out, it can offer a longer operating life of the bearing or prevent premature bearing failure.
Sealed bearings can be considered lubricated for life, which eliminates the need for a relubrication process.
Sealed Bearing Design Attributes and Benefits
Sealed spherical roller bearings are cost-effective, offer a higher level of cleanliness, and are a space-saver. Let's look at a few attributes sealing can contribute to...
1. Reliable protection against external contamination
Many contaminants can cause problems with a bearing. Dirt, sand, and water are the most common ones you run into, but chemicals and corrosives can also damage bearings.
Let's consider environmental influence ...
Dust and dirt can contaminate a bearing at an aggressive rate. Be sure to use proper sealing techniques to prevent this type of contamination.
Another instance where proper sealing is crucial is with aggressive media or water. When dissolved water in lubricant materials absorbs with a bearing, it can cause etching and microcracks. When this occurs, it can reduce the bearing integrity.
Sealing is the extra step to protect against external contaminants. Using a sealed spherical bearing will prevent external contamination.
2. Lubricant kept in place
Adequately sealed bearings guard against contamination and ensure the lubrication isn't destroyed.
Sealed spherical roller bearings are supplied with the proper lubricant or grease and then sealed (closed). This process allows the bearing to be lubricated properly from the start.
Lubrication reduces friction and abrasion, prolongs service life, and keeps contaminants away from the rolling elements.
3. Improved maintenance intervals
Fewer maintenance requirements are essential when dealing with hard-to-reach places where a bearing can be located. Carrying out less maintenance with the grease in a sealed bearing is cost-efficient (less grease consumption) and safer overall (remove any injury risk).
More applications become available when less maintenance is required. Since businesses/customers rely on bearings for their operation, any downtime can lead to a higher cost or delays in their production process.
4. Easier handling
Sealed bearings result in easier handling during mounting. The worry is less for contamination.
5. Space-saving
A bearing with integral seals requires less space. This also opens up other applications for the sealed bearing to be used.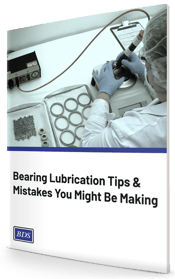 Spherical Roller Bearings

Applications

Spherical roller bearings are used in highly demanding environments— extremely tough running conditions.

The bearings are used in applications prone to misalignment or shaft deflection (bending of the shaft under specific circumstances, such as an axial load). They are known to tolerate the misalignment between the shaft and housing.

With being able to handle misalignment, spherical roller bearings are sourced for a variety of mechanical uses.

Everyday use for this bearing includes mining equipment, construction equipment, and textile machinery, and more...
"Spherical roller bearings have a wide range of use-cases. They are used in applications where heavy loads, moderate to high speeds, and possible misalignment occur. Examples are off-road vehicles, pumps, mechanical fans, marine propulsion, wind turbines, and gearboxes." [source]
Conclusion
The spherical roller bearing has the central role of taking dual-directional thrust and movement versatility. Its primary function is to reduce friction between the components while allowing for misalignment.
The added sealed spherical roller bearing extends the life of the bearing, improves productivity, and can be used in countless industrial applications.
As every roller bearing is slightly different with unique characteristics, it is critical to understand their differences before applying to equipment.
BDS offers a range of roller bearings for you to source. Our global sourcing network enables you to get the bearing you need according to your order requirements without any hassle.
Contact a bearings expert today.