Because of their unique stature, it is imperative to use the utmost care when handling. Miniature bearings must be well cared for, lubricated, and stored under cleanroom conditions to prevent debris from touching them. Their fragile, tiny size is so transparent that even a fine strand of hair could cause damage to the balls and raceways.
Having access to the most miniature bearings to meet your specific project will eliminate long lead times, defeat supply chain bottlenecks, and satisfy customer demands.
At Bearing & Drive Systems, you get the bearings you need according to your requirements without any hassle. Our lubrication services and "Clean Room," which is critical to the miniature bearing, helps you meet any customers' specifications.
If you're interested in miniature bearings, we discuss what they are and how they can meet your precision requirements.
Keep reading...
Miniature Bearings: What are They and How They Meet Your Precision Requirements
Miniature ball bearings are small bearings with balls as their rolling element. They are sometimes referred to as instrument bearings or micro bearings with outer and inner rings, retainers, snap rings, and balls.
Miniature bearings are produced under the standard European metric sizes under 20 mm, varying from ⅛ of an inch in overall diameter to 20mm in overall size. They come in inch and metric sizes. Manufacturers make the same sizes, each with their own variants on ABEC ratings and custom modification sizes.
One of the most petite sizes is a bore of .0400 and an overall size of 1/8th of an inch. This type of bearing is helpful in a wide range of applications because of its unique size.
Design Attributes: What are the Most Important Requirements of a Miniature Bearing?
With miniatures, important attributes are speed, accuracy, and longevity. In addition, the quietness of the bearing running at high speeds can also be imperative.
They are designed to provide reliable, high performance for moderate radial and thrust loads at low operating torque.
Chrome steel is the most common material for ball bearings because it offers high load capacity and low noise properties. Miniature/instrument bearings are not used in high load applications, and because of the small amount of material used, stainless steel is used to make many of the bearings.
Both stainless steel and chrome steel offer users a high strength to wear ratio, essential for long service life and efficient operation.
Let's look at the differences/similarities between stainless steel and chrome alloy steel...
Comparison of Stainless Steel vs. Chrome Alloy Steel Bearings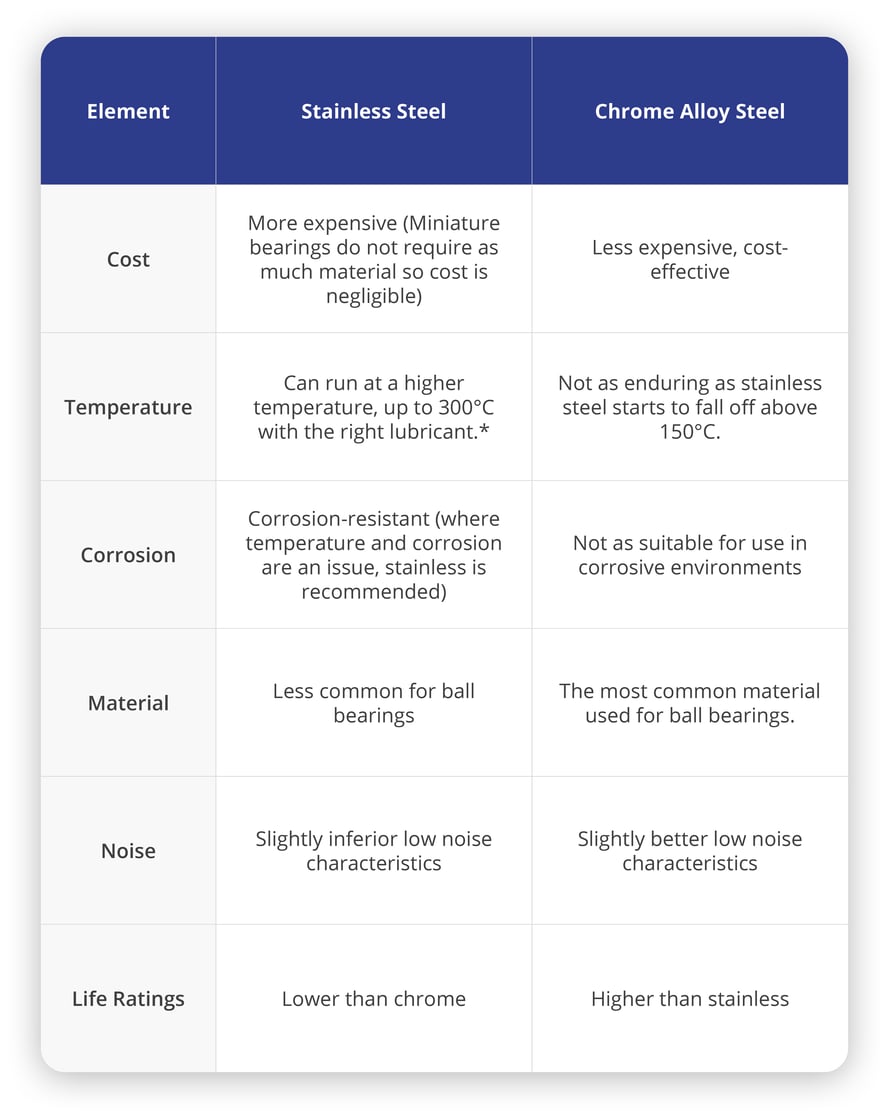 * As lubrication experts trusted by major manufacturers, we know finding the correct grease for your bearing application can be a struggle. With our 30+ years of experience and knowledge, we can take some of those burdens and be your "go-to" for lubricant optimization. Miniature bearings can be offered with customer-specified oil or grease lubricants.
Because we take extending the life of your bearings enormously, we put together an in-depth guide discussing the different types of lubricants, the best methods for bearing lubrication, proper procedure for applications, and mistakes you might have made to ensure the long service life of your bearings.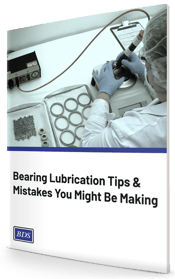 Miniature bearings can be offered with customer-specified oil or grease lubricants.
Miniature Bearing Applications
When choosing a ball bearing for a specific application, you must take various factors into account:
Speed

Load conditions

Size availability

Accessibility requirements.
Miniature bearings are used for extremely high speeds. These bearings offer a low level of noise, vibration, and frictional torque performance.
They are used in medical, instrumentation, and semiconductor equipment, specialized aviation market, dentistry, avionics, and instrumentation, robotics, computers...the list goes on.
"One trend gaining traction in this market is the rise of the industrial robotics market. Rising adoption of miniature ball bearings for articulated robotic arms requiring high-precision is likely to foster the growth of the market in the long run." [source]
Another driver influencing the market is the rising demand from the automotive market.
"With the growing production of passenger vehicles and other automobiles, the demand for automotive components such as miniature ball bearings will further propagate during 2018-2022." [source]
Challenges of Miniaturization of Bearings
Miniature bearings are highly engineered components that lower friction and enhance the equipment's operational life.
The global miniature ball bearings market is forecast to grow at a CAGR of 7.62% during the period 2018-2022.
However, growth is not without its challenges.
Maintenance and flexibility can become challenges if you do not pay attention to these areas with their small size.
Regular maintenance should become a top priority, so they maintain a smooth operation and long life. Lubrication plays a critical role in maintaining the bearings.
Small bearing options may be hard to find and make it challenging to complete a working project. Working with a supplier that has the options you need can eliminate the challenge.
Conclusion
As a leading distributor of miniature bearings, BDS offers a wide range of options for your customers across various industries. We offer both stainless steel and chrome alloy steel miniature bearings.
We know it's stressful going outside of your typical supply chain to find the correct bearing for your customer, and ordering globally can be a daunting task.
Our global sourcing network at BDS enables you to get the bearing you need according to your order requirements without any hassle. Contact a bearings expert today.