Bearings that operate smoothly keep manufacturing processes moving. They are often overlooked parts of the process, despite carrying the body weight and production load.
The concept of a bearing is to lessen the friction between an object and the surface over which it is moved. By supporting a load while reducing friction, a bearing guides shaft operation.
Bearings are not the only element to consider when designing a high-performing motion system. Shafts are a crucial component in machines and devices to help you build better working equipment. A shaft works with and needs a bearing for a smooth operation.
As a premier source of all-in-one shafting solutions, BDS is committed to reducing any downtime with hassle-free ordering and any special modifications needed for your shafting needs.
We discuss linear shafts, types, mounting options and special machining for your custom applications in this article.
Linear Shafts: Types, Mounting Options and Materials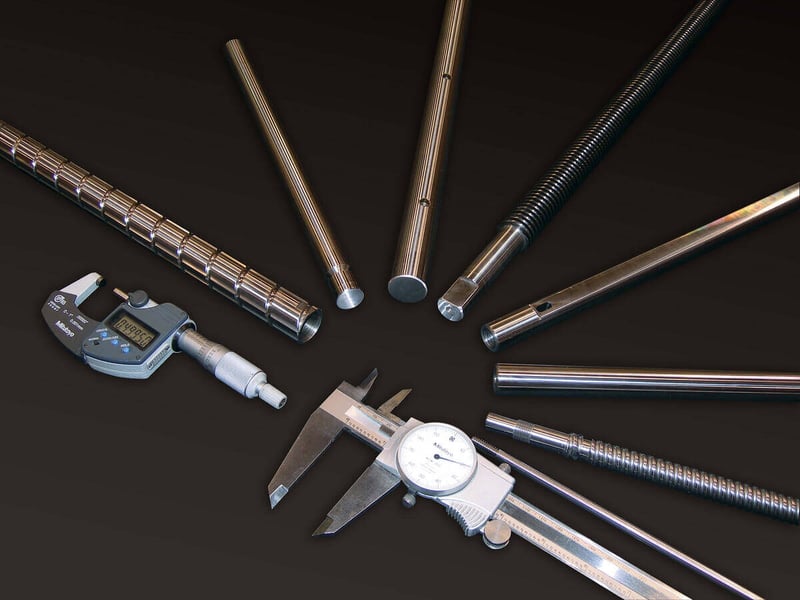 What are Linear Shafts?
Linear shafts are long, rod-shaped devices that provide linear motion for different applications. Linear motion applications are found in the medical, aerospace, packaging and industrial sectors and more.
A better shaft equals better performance. The shaft design plays a crucial role as the shaft performs as the bearing system's inner ring or cone (inner race). The inner race is the part of the bearing that sits directly on the shaft.
Shafting is a critical component in linear motion machines. There are different types of linear motion shafts to get the job done.
Types of Linear Motion Shafts
Tapped - internal threads allow you to mount these shafts onto threaded studs. (no shaft support is needed)
Threaded - also do not need shaft support; you can mount the threaded rods into tapped holes.
Hollow - hollow shafts are lighter than a solid shaft, so it helps reduce the weight of your total system.
Linear Shafting Mounting Options
Proper mounting is necessary for shafting to be used as a linear guide. The most common shaft mounting methods are continuously and end supported.
Continuously supported shafts are attached and supported along the entire length. They are used when loads are high.
End supported shafts are supported at both ends and are used when loads are light.
Materials and Coatings
Just as mounting comes into play for the best performance, the materials and coatings are as necessary. Most linear shafts are made of alloy or stainless steel, or aluminum linear.
Alloy steel
Alloy steel provides superior durability.
Stainless steel
Steel shafts can be used with typical linear bearing applications. Stainless steel shafts are suitable for a cleanroom environment or when introduced to severe conditions, such as high humidity or erratic temperatures.
So, the stainless steel shafts are well-suited where corrosion resistance is a top priority.
Aluminum linear
These shafts provide good electrical and thermal conductivity, high reflectivity, and oxidation resistance. [source]
What Types of Loads do Bearings Experience?
A load can be applied to bearings in basically two directions. Axial bearings are designed to withstand force in the same direction as the shaft. Radial bearings are designed to withstand forces that are perpendicular to the direction of the shaft.
A shaft will try to push the bearing in the same direction in which the load moves.
Types of Loads
1. Radial Load - any direction perpendicular to the shaft axis. Radial loads act as right angles to the shaft (bearing's axis of rotation). It is when the load is vertical to the shaft due to gravity. A radial load can also be referred to as the "overhung load" because of how it may hang off the shaft.
2. Axial Load (also known as Thrust Load) - acts in the same direction as the shaft. It is considered when the load is parallel to the post.
3. Angular- These are designed to accommodate combined loads, acting radial and axial loads.
Special Machined Applications
There are many steps involved in machining a perfectly smooth and precise workpiece. Specially machined shafts may require drilling, tapping, turning and grinding.
Grinding is a machining process that is used to remove unwanted material. Turning involves the rotation of a workpiece while a cutting tool moves in a linear motion.
Drilling creates a round hole in the workpiece. Tapping is the action that makes a thread into the side of the hole.
Resources:
Machining Process: Turning, Milling and Drilling
Drill and Tap Reference for CNC Machined Parts
Conclusion
It's nearly impossible to imagine a world without bearings and the technology they make up.
To sum up, again, bearings are not the only element to consider when designing a high-performing motion system. Shafts are a crucial component in machines and devices to help you build a better piece of working equipment.
With all the different bearing types, features and components that go with them, finding what you need can be a daunting task. With BDS as your partner, you'll get expert advice, the solutions you need and hours back in your day.
Saving time is important but getting any special modifications for your shafting needs is essential. And if required, all machining is done in-house and cut to size for faster access.
As a certified ISO company, we have demonstrated and ensured you get consistent, quality products and services. At BDS, we are ready to help you find the right shafting solution for your specific application.
Talk to one of our bearing experts today to tell us what you need, and we can help you get started.